What is Universal Design?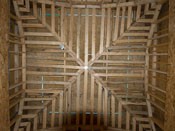 With humans living healthier and longer lives, aging in place means you can take advantage of universal design. When incorporated into a home's design, universal design can eliminate or reduce the need for changes later in life. It is not for one specific age group. At some time in our life we will need these special needs in our home. Making accessability and ease of comfort a priority and is necessary for us and our loved ones in our family. By incorporating simple things such as:
Lower light switches
Making door sizes larger.
Larger halls to make accessibility easier.
Larger bathrooms.
Rails in bathrooms
Appropriate counter top heights.
Making your home a safe and comfortable environment for everyone in your household..
These are just a few of the things that can be done to make your home Universal Design. It does not have to compromise the design in your homes architectural style. When we meet we can discuss more ways of making your home a more safe and comfortable environment.
Call Steve today at 505.440.5486 or email to schedule your free home consulation.